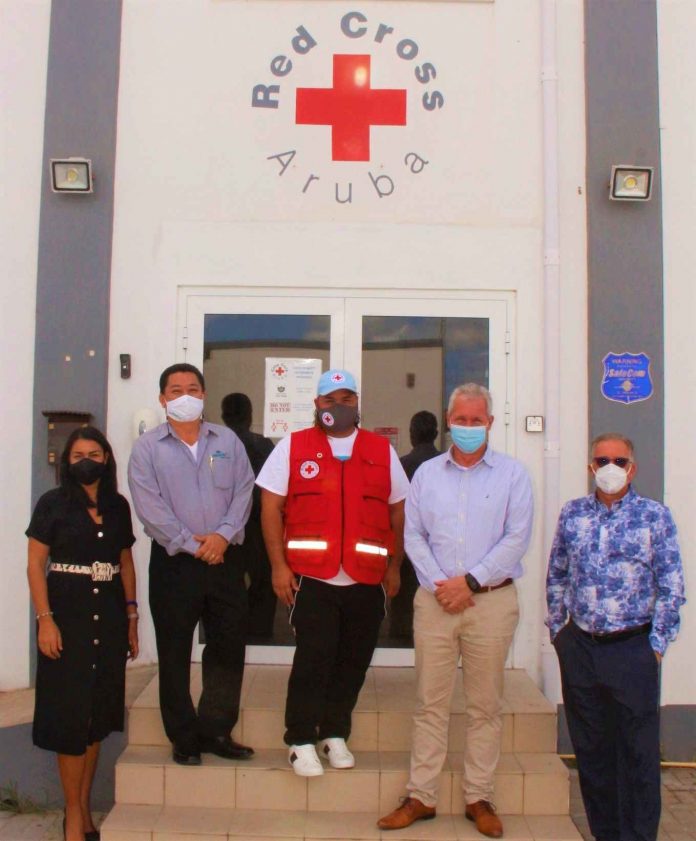 The Red Cross Aruba is most famous for its roll during Carnival here, when its volunteers provide priceless assistance to the parades and during festivities with ambulance and first aid services.
During 2020, the Red Cross rose to the challenge of the Covid19 calamity, delivering social assistance for the poor and needy, providing emergency food packages, then vouchers, in full collaboration with the Dutch government, Fundacion pa Nos Comunidad and a network of sponsors and benefactors, including the hospitality industry here, supermarkets, food purveyors, and other NGOs.
In a recent Red Cross report published in December the organization made public that in Aruba, 17,740 people received food assistance, 10,863 of which directly via the donations of the Netherlands Red Cross and 6,877 via local partner organizations, 184 households received reimbursement for school-related costs such as school bus, uniforms, books and tuition fees.
The social assistance delivered by the Red Cross in addition to basic needs, food and hygiene packages also covers lonely local elderly, undocumented asylum seekers and refugees, and an extensive list of individuals hit hard by economic downturn.
Aruba, was badly affected by the pandemic, due to its high dependence on tourism, and consequently the need for food assistance has risen exponentially, since the beginning of the coronavirus crisis.
As a result, an Emergency Plan was launched in collaboration with the Netherlands Red Cross, for a large-scale food program here, reportedly helping 3,500 households, since May 2020.
Besides food, other needs such as medical costs, rent and utilities, which could no longer be afforded by locals, could only be helped on a small scale.
It is a well-publicized reality that in order to keep all of its programs afloat the Red Cross relies on a network of steadfast organizations such as ATSA, the Aruba Time Share Association, for financial aid, which translates into a long-term, five-year commitment, for an annual Awg 5,000 donation.
This year, however, that donation was expanded to include additional Awg 7,800, dedicated to holiday meals, as part of the local Meals On Wheels effort, in honor of the upcoming Christmas and New Year celebrations.
ATSA includes the following resort properties: Marriott Ocean Club, Marriott Surf Club, Playa Linda Beach Resort, Amsterdam Manor, La Cabana Beach Resort & Casino, Divi Phoenix, Divi Dutch Village, Divi Village, Divi Golf Villas & Residences, La Quinta, Paradise Beach Villas, Casa del Mar Beach Resort, Aruba Beach Club Resort, Caribbean Palm Village resort, and Eagle Beach Resort.
Established in 1994, the association works on a local level, as a supporting member of AHATA, the Aruba Hotel and Tourism Association, and with other local organizations as well as Government entities. On a regional level, where Aruba continues to receive recognition as a model timeshare destination, ATSA has professional ties with CHA, the Caribbean Hotel Association and also benefits from continuous collaboration with ARDA, the American Resort Development Association.
Programs operated by the Red Cross: Healthcare and Psychosocial Support program; Water, Sanitation and Hygiene (WASH) program, Food Assistance and Shelter Program, Basic Needs. The Red Cross volunteers all trained in hygiene promotion and the correct use of personal protective equipment are entrusted with health promotions.
In the picture partners the Red Cross and ATSA, pose for a picture opportunity, as the donation is presented.