Heintje Ras an Aruban fireman and father of two teenagers has a passion for the Aruban Culture. His love for everything that has to do with our heritage is visible in his day to day life at his own museum, Museo di Antiguedad "Nos Bieunan", Museum of Antiqueness "our elderly". Ras wants to build a mega museum where he can display all his antique artifacts to the public. To do this he needs funding. His way to get funds is by doing a challenge; Spending 100 days in the Phosphate Mine, which if completed will be a world record on the Guinness Book of Records.
As a young boy Ras had always been passionate about Aruba's Culture and heritage. He loved listening to stories told by his ancestors. He even learned how to fix sewing machines. So whenever someone needed to fix a machine they would call him. While fixing a broken sewing machine at a home some years back he saw that the owners of the house had a very old sewing machine thrown in the backyard and he asked if he can have it. He took it home, fixed it and from there he got the idea to start collecting old artifacts that people wanted to throw away or had no use for it. For Ras all these artifacts have a special meaning, a value, they all tell the story of our ancestors and our heritage. That is why he is trying to "rescue" all artifacts that tells a story of our past.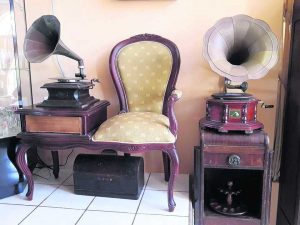 The collection started in his garage at home. More and more artifacts were gathered that it even got so crowded that he started putting them in his living room and continued to spread all over the house. That is where the idea came up to open up his house for the public. The need to educate specially kids but also people of all ages about our history and our ancestors is what lead him to open his own museum at his house. He feels joy when seeing kids interested in knowing the history of the artifact, how it works, especially since kids nowadays only know the digital era and everything is so easy to get. He also loves to share his knowledge of these artifacts and their original names in our Papiamento language.
At his museum you will find artifacts dated from the early 1600's. From antique furniture, pots, pans, musical instruments, paintings, tools, lamps, sewing machines and so much more. Over the past three years his collection has grown to over 6000 artifacts.
Ras has a dream he wants to accomplish for his beautiful island. His ultimate dream is open up a Mega Museum for its citizens as well as for its visitors and incorporating a classic car collection as well. For this reason he is going to do what nobody in the world has done before. From October 2nd, 2021 till January 9th, 2022 he will be spending exactly 100 days in Aruba's Phosphate mines deep underground to help raise funds to accomplish this museum for Aruba.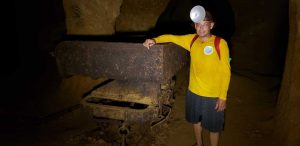 100 Days in the Phosphate Mine
To make this challenge more exclusive Ras has contacted the Guinness Book of Records, since he will be doing a historical record. A representative of the Guinness Book of World Records, will be present during three occasions for this event. October 2nd, 2021 upon start of the challenge, when reached 50 days in the cave and at the end of the 100 days. To be able to do this challenge he had to go through some strict guidelines. No bed with mattress can be used. No lights are allowed inside the cave. No electronic devices are allowed. There must be a doctor on standby within five minutes reach. His team members will provide him every day with buckets of ice so he can drink and shower with. He will be eating only fruits and liquids. The fire department will also be on standby. Ras has been undergoing these last months through heavy mental and physical preparations. Ras is ready and anxious to start with this challenge and see his dream come through of building a mega museum for his beloved island.
On Saturday October 2nd, 2021 at 2pm, Ras will be meeting everyone at the Red Anchor at the entrance of Colony and afterward will head to the entrance of the Phosphate mine. By 4pm a local artist will sing the national anthem of Aruba, followed by a blessing from a Priest before entering the cave for 100 days.
Donations for this cause can be done through bank account of RBC Bank, number 7700000100257292, or at GoFundme https://gofund.me/1fb9874c.
On behalf of Aruba Today we would like to wish Heintje Ras best of luck and may God Bless and Protect you throughout the challenge!