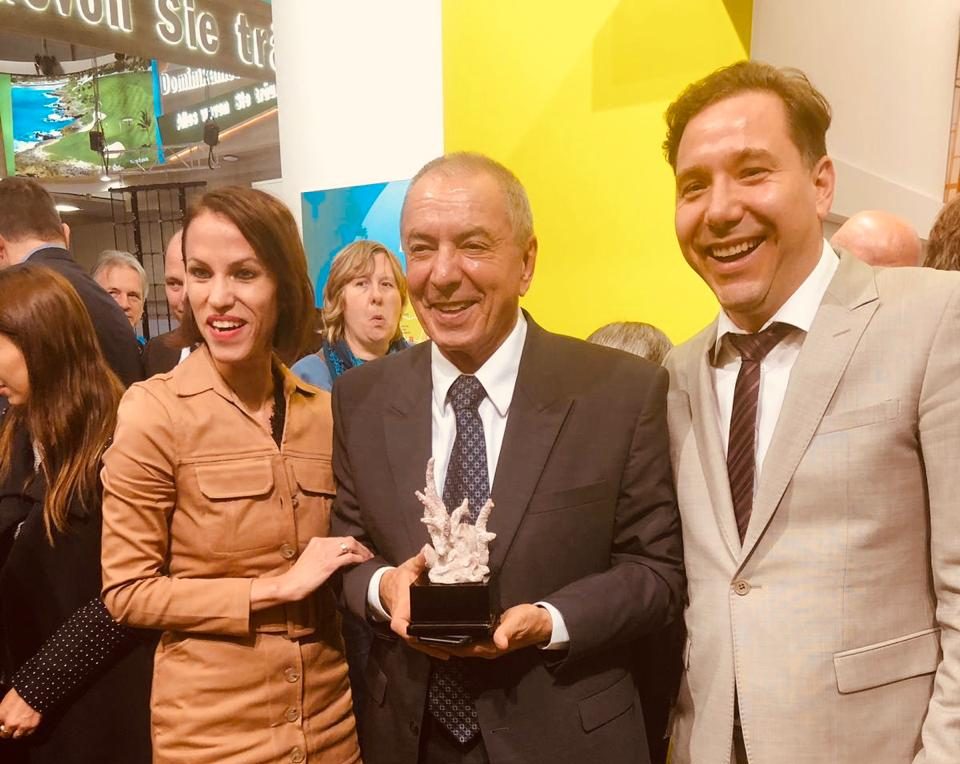 ORANJESTAD — As is customary, Aruba was present at the ITB Berlin Conference, the largest international conference in connection with travel tourism. For 2019, Aruba's booth reception, with the hashtag #ONEHAPPYHOURCOCKTAIL, was an extra-special one.
It commemorated the fact that A.T.A. has been promoting Aruba in the European market for 35 years and that Mr. Ewald Biemans, founder of Bucuti & Tara Beach Resort, was an essential part of this trajectory with his presence at ITB for 39 years.
Aruba's commemoration of 35 years in the European market, with promotion and efforts through A.T.A., started at ITB last Wednesday. The A.T.A. will take the opportunity in 2019 to emphasize the importance of Europe for Aruba through this promotional campaign, where they will give attention to several pioneers and people who played a key role in promoting Aruba's tourism in Europe. Furthermore, the evolution and the promotion of Aruba's tourism product will be carried out through activations both between the partners in the market and among consumers.
Importance of diversifying the Aruba market:
Mr. Biemans, who attended ITB for his 39th time, is undoubtedly a pioneer in opening Aruba to the European market. Mr. Biemans came to our island more than 50 years ago with a vision that has proven fruitful for our tourism sector. Aware that tourism was the largest economic pillar of Aruba and that Europe represented great opportunities for Aruba, Mr. Biemans recognized the importance of diversifying Aruba's markets. Mr. Bieman's vision was and still is to emphasize that if we destroy nature, our tourism will also be destroyed. He is a visionary who surely helped elevate our tourist product in Aruba and serves as an example for efforts in the area of sustainable management and development worldwide.
During the special reception on Wednesday, March 6, Ronella Tjin Asjoe-Croes, CEO of A.T.A., and Tirso Tromp, director of Europe for A.T.A., recognized Mr. Biemans for his pioneering efforts in the European market. With different partners and the European media present, they reflected on A.T.A.'s 35 years in Europe. Since 2009, Bucuti & Tara Beach Resort has received approximately 45 awards focusing on romance, sustainability, and guest experience. Mr. Biemans has a long history of experience in sustainable tourism. Some of the prizes received over the years include, among others, the Green Globe Certification and the Travelife Gold Certification. In 2014, Mr. Biemans was honored as hotelier of the year by the Caribbean Travel Awards. In 2016, he was recognized with a Gold Adrian Award as a leader in sustainable tourism by Hospitality Sales & Marketing Association International (HSMAI) and National Geographic Traveler, and in 2017, he was recognized by Caribbean Journal as hotelier of the year. It should be mentioned that in the month of April, Mr. Biemans will be in Seville, Spain, to represent Bucuti & Tara Beach Resort as one of the finalists for the Global Tourism for Tomorrow Awards.
In 2015, a street in front of the Bucuti & Tara Beach Resort was named after Mr. Biemans, honoring his tireless work for the environment and tourism. The A.T.A. strives to follow the example of leaders like Mr. Biemans to ensure the well-being of our tourism product and promote the welfare of our environment and the entire community of Aruba. A.T.A is proud to be able to count on the leadership, support, and participation of Mr. Biemans in the development of Aruba's tourism and European tourism for Aruba. Congratulations and thank you! q