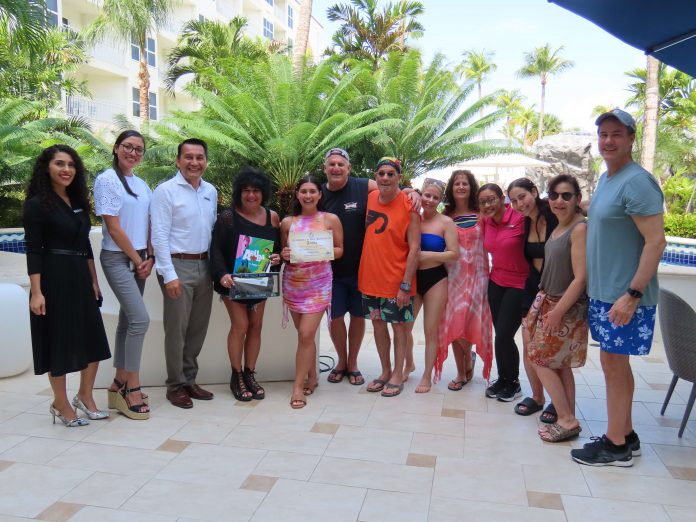 The Aruba Tourism Authority recently had the great pleasure to recognize a Goodwill Ambassador of Aruba. This visitor was respectively honored with a certificate acknowledging her years of visits, loyalty, and love to the island of Aruba.

The honor certification is presented on behalf of the Minister of Tourism as a token of appreciation and to say "Masha Danki" to guests whom have visited Aruba 10, 20, or 35 years or more consecutively.
The three honoring levels are as follows:

Distinguished Visitor (10>years consecutively visiting Aruba)
Goodwill Ambassador (20>years consecutively visiting Aruba)
Emerald Ambassador (35>years consecutively visiting Aruba)
The honoree was:
Goodwill Ambassador of Aruba
Ms. Ali Paige Isaacman from Pennsylvania, United States.
Ms. Ali Paige has been visiting the island of Aruba with her family since she was only 10 weeks old, and today we mark her 25th consecutive visit to Aruba!
Ms. Kimberley Richardson representing the Aruba Tourism Authority, and staff members of the Marriott's Aruba Ocean Club bestowed the Goodwill Ambassador Certification to the honoree,presented her with gifts, and also expressed gratitude to her family for bringing Ms. Ali Paige along with them to Aruba sinceshe was a baby for so many consecutive years.
Top reasons for returning to Arubaprovided by Ms. Ali Paigewere:
All the great people who live and work in Aruba
The consistent beautiful weather
The fantastic beach boat rides;water activities
Shopping
Aruba's variety of restaurants to choose from