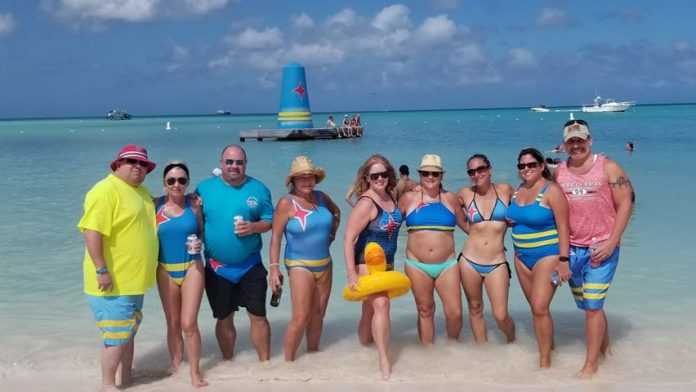 ¨Aruba to me is a peaceful happy island where one can always relax and enjoy meeting friendly arubans and beautiful beaches¨.
Amy (aka "Aruba Amy") from Minneapolis, USA.
"Aruba to me is…. Making special memories and celebrating birthdays and anniversaries with local friends and family at our "home away from home" at Amsterdam Manor. This is our 25th wedding anniversary and our 25th year to Aruba (42 trips) and we love celebrating in Aruba! Many, many thanks to our extended Aruba family and friends."
Elaine Dellorfano of the Boston Gang.
Aruba to us is….  FRIENDSHIP and HAPPY TIMES!
Bill Belliveau, Brian, Tay Lagrasse, Elaine, Christine, Stacy, Lainie, Lauren and Matt Brammer love spending Thanksgiving in Aruba. They love Aruba so much that they gladly show it thru their matching Aruban Flag Swimsuits!!