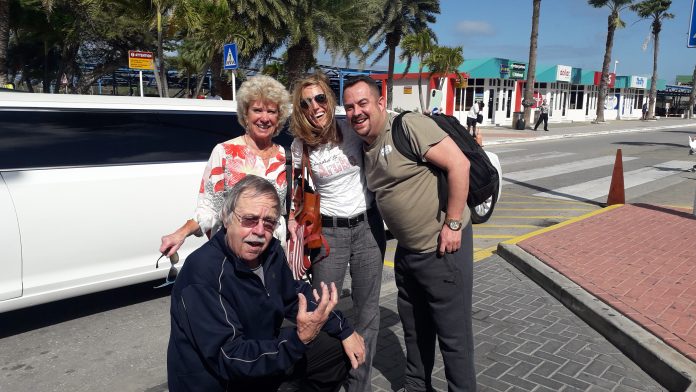 Aruba Today likes to welcome readers to participate in our newspaper. You can see that in our Honored Guest-publications, specials like on Valentine's Day and on other occasions. Throughout the year you are always welcome to send us your vacation picture(s) together with completing the sentence: Aruba to me is …….. (Email: news@arubatoday.com)
For today's newspaper we received some great pictures from Rene Klooster, Captain of Sunset Boat Aruba. Rene wants to dedicate this column to two special persons who are like family to him. The lucky birds are Ben and Karen Benita from Haymarket Virginia, USA. He wrote:
"Ben and Karen arrived last Saturday in Aruba for their 50th consecutive year. They came to Aruba as honeymooners 50 years ago. For these two love birds Aruba was love at first sight. They stayed at the Aruba Caribbean Hotel, which is known nowadays as The Hilton Aruba Resort & Casino. For the last 32 years they have been calling the Holiday Inn Beach Resort their home away from home.
They love the warmth and hospitality of Aruba's people. They have made many friends throughout these years. Their love for Aruba is so big that they have the Aruban flag raised in their garden back home and they even named their first dog Aruba."
Rene has known them for the past 10 years and they have become like family to him. Each year they take a tour on his boat. They talk about everything going on in Aruba, share some old stories and enjoy the breathtaking sunset. Karen always cries when she sees Aruba's sun go down.
Rene wanted them to feel special for their 50th year visit and surprised them upon their arrival by picking them up at the airport in a limousine. They opened a bottle of champagne and cheered to 50 years more!! Ben and Karen are here with their son Tony, who has been coming to Aruba for 25 years together with his wife Edite. q