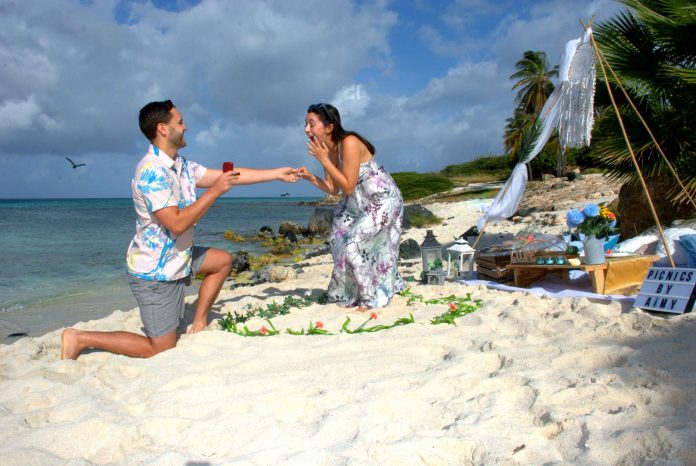 Aruba Today is blessed with readers reaching out to us to share their love for the island. Today however it is not only about the love for Aruba but also about the love of two beautiful people for each other. Tom Erb (24) wrote to us: "We have been reading your paper the entire time we have been here. We are from Washington D.C. and have been in Aruba since January 20. I actually just proposed to my girlfriend yesterday at Boca Catalina."
Tom and his fiancée Polina Goncharova (24) live in Washington, D.C. "I work on climate change policy at the Center for Climate and Energy Solutions and Polina is a special education teacher in Washington, D.C. " They met in college at the Claremont Colleges in Claremont, California. He graduated from Pomona College in 2018 and Polina graduated from Pitzer College in 2018.
The couple chose Aruba because of its impressive Covid-19 protocols that made them feel safe when traveling and the kind and thoughtful people. "Of course, Aruba is also absolutely beautiful and we love the beaches, snorkeling with sea turtles, and perfect weather. My colleague Stephanie Gagnon recommended that we travel here and take advantage of the Workation deals. Stephanie visits Aruba regularly."
The proposal
Tom started planning the proposal when he was still in Washington, D.C. "One of the co-owners of Aruba Sunset Beach Studios, Eve, helped me find a photographer – Sabine (@sabinegoeretzphotography). Sabine then recommended Aimara Parra (@picnicsbyaimy) to help with a beautiful picnic set-up. Sabine and Aimy were both very helpful–they found a perfect location for me, gave me advice, and flawlessly executed on the big day." The day before the proposal, he told Polina that he had made a reservation at a fancy restaurant so she would dress up. "We then starting driving and a little before the beach at Boca Catalina, I told her to close her eyes. I then parked the car, walked her down to the beach with her eyes closed, and when I told her to open her eyes I was already on a knee proposing." The couple enjoyed a wonderful picnic and took beautiful photographs. They were even greeted with cheers from some nearby snorkelers! When they returned to Sunset Beach Studios, their room was decorated by the hotel team with hearts and other cute decorations. "It was a perfect day and Aruba provided the perfect setting: warm weather, a beautiful beach, gorgeous wildlife, and plenty of helpful and supportive people. I feel so lucky to have been able to propose to the love of my life here in Aruba. We will never forget it."
To finish the sentence 'Aruba to me …' was easy for Tom:
"Aruba to us is full of unconditional love!"
Would you also like to be featured in our newspaper while vacationing on our One Happy Island? It is easy.
Complete the sentence: Aruba to me is ……. Send your picture with text (including your name and where you are from) to: news@arubatoday.com and we will publish your vacation memory. Isn't that a special way to keep your best moments alive? Please do note: By submitting photos, text or any other materials, you give permission to The Aruba Today Newspaper, Caribbean Speed Printers and any of its affiliated companies to use said materials, as well as names, likeness, etc. for promotional purposes without compensation.
Last but not least: check out our website, Instagram and Facebook page! Thank you for supporting our free newspaper, we strive to make you a happy reader every day again.