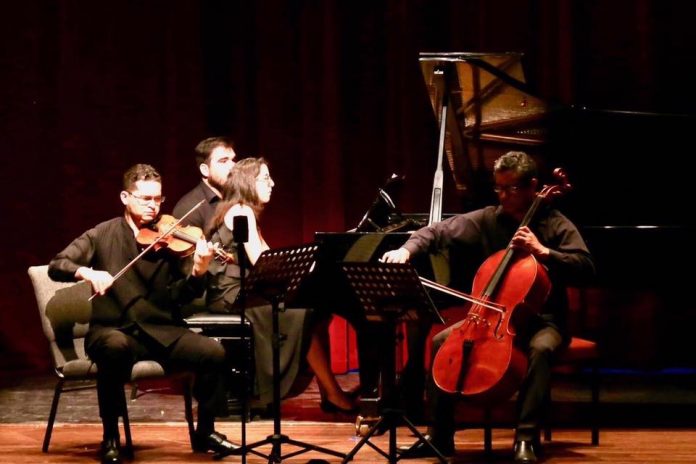 The Aruba Symphony Festival and Academy is an international event where every year, first-class musicians from around the globe make Aruba their destination. During these 12 intensive days of music-making, guest artists and students from more than 15 countries give the happy island an unforgettable experience with full-house concerts, workshops, conferences and classes led by celebrated international artists. Most of these concerts are FREE, some have a small admission and NEW is that the festival offers VIP packages this year. This is an event you don't want to miss.
Here's a views of the upcoming events
Saturday July 20th at Cas di Cultura – Music by Heitor Villa-Lobos (Brazil) and Enrque Granados (Spain)
Revero Trio consists of Venezuelan musicians who have made a name for themselves in Aruba, having performed here many times in the past. Ana Maria Otamendi, pianist; Horacio Contreras, cellist and Simon Gollo, violinist. Three musicians with passion for their chosen profession. They will perform the "Piano Trio No.1 in C minor" of the famous Brazilian composer Heitor Villa-Lobos. This piece consists of four movements and lasts 23 minutes.
After this, Randolph Kelly (violist) and Olivier Piguet (violinist) will join the trio for a quintet to interpret "Piano Quintet in G Minor, Op. 49" of the Spanish composer Enrique Granados. Although he died very young (48) Granados left many compositions of which Op. 49 probably is among the most popular. The quintet under the direction of Simon Gollo honors the composer and his work. This piece consists of three parts and will last about 15 minutes.
Admission is FREE. There will be a donation box for you to show your appreciation for the Aruba Symphony Festival. The concert starts at 8 PM.
Sunday July 21st at Cas di Cultura starts at 11.00 AM
More than ten students will participate in the popular and important competition for the "Clyde Harms Scholarship". The winner of this event will be invited to participate, all expenses paid, at the 2020 Aruba Symphony Festival and will have the opportunity to play solo accompanied by the Festival Symphony orchestra.
The four previous winners were quite diverse: In 2015, the violinist Andrea Hughes from Salt Lake City. In 2016 it was the Colombian clarinet player XXXXX who won. In 2017 the 14 year old pianist from Temuco, Chile walked away with the prize and last year the winner was the even younger (13) violinist from San Cristobal, Venezuela, Daniela Perez. This year a 12 year old cellist from Colombia will be among the competitors. The jury of the competition is made up of masters and guest artists participating in the Festival.
Sunday July 21st at Paseo Herencia, starts at 8 PM – Music on the street!
Three groups are scheduled to take part: Cincopanda, Latin American Musicvv Ensemble and La vie en Corde
For more about the program and the performers at the Aruba Symphony Festival 2019, visit www.arubasymphonyfestival.com.