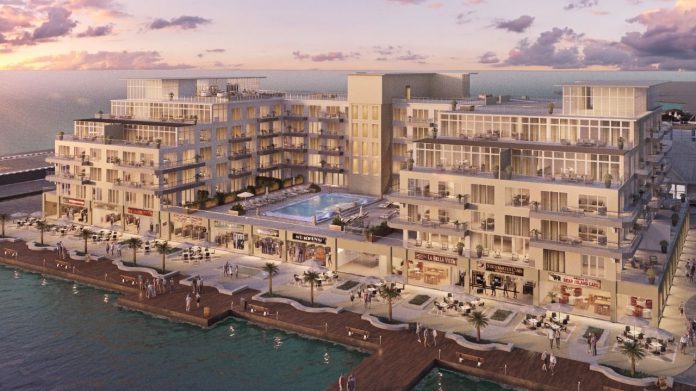 In reference to the recent media information displayed to the public regarding the Harbour House Project that is being built across the Schoenerhaven, Aruba Ports Authority N.V. (APA) and Poundwise Investments and Developments VBA (Poundwise), would like to state and clarify the following:
In May 2017 Poundwise acquired the former Marazul building in a public auction to develop a residential and commercial building to be named Harbour House. The plot boundaries, including the parking area, have not changed since the auction. APA has the administration rights of the water area and part of the land areas surrounding Harbour House Building.
In 2017 Poundwise submitted an area beautification project to APA and respective government authorities for their approval. An open dialog initiated by APA has been held between direct related stakeholders ever since 2017.
A boardwalk and replacement of current pavement of the adjacent road has been approved by the Stichting Rancho and APA in coordination with DOW. It was never and is still not the intention of APA to transfer the administration rights of the water or the plots to any third parties, as such this will remain under the administration of APA.
All roads and quays around Harbour House that are currently publicly accessible, will remain as such. The access to the pier is guaranteed at all times for the fishermen, including the fishermen of Stichting Rancho. This has been duly communicated to all interested parties many times in the past and once again recently.
The total project of beautification will include a facility at the discretion of the fishermen that will have restrooms and fresh water for the fishermen. Poundwise will contribute with US$50,000 for this purpose.
The enhancement of the Schoenerhaven area will ultimately benefit Aruba in general:
Eliminate a 17-year-old eyesore in the gateway of Aruba
Keeping the pier as is on its current location with a new facility, while conserving the fishing activities conform our local tradition and culture
Will provide 100 direct jobs in Harbourwalk shops and Harbour House Residences, which is a boost to the local economy during these unprecedented times
Will generate additional tax revenues for the Government of Aruba (GOA)
Will be a launch to utilize the opportunities of Schoenerhaven to become an attractive area within the downtown area for Arubans and visitors
Harbour House will constitute a new place for the entertainment and enjoyment for locals and visitors while conserving our culture
Harbour House is in line with government's intentions to help the revival of city of Oranjestad
Will have a positive impact on the cruise industry as it will make the area much more attractive for cruise tourists.