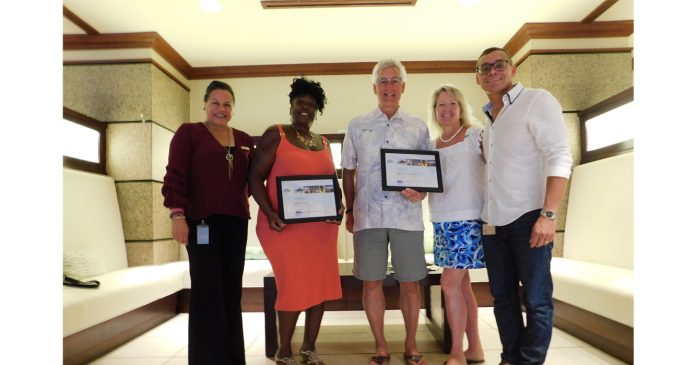 Recently, Mr. Jonathan Boekhoudt had the great pleasure to honor loyal and friendly visitors of Aruba as Distinguished Visitors at their home away from home. The symbolic honorary title is presented on behalf of the Minister of Tourism, as a token of appreciation to the guests who visit Aruba between 10-20-35 and more consecutive years. 
The honorees were the lovely lady Kathleen Smothers, resident of Decatur Georgia and the great couple William & Sonia Giannetti residents of West Chester Pennsylvania.
The honorees had many reasons why they keep coming back to the island year after year. They love the warm inviting sun, the kindness of the people of Aruba, the absolute feeling of safety everywhere and anytime and the great selection of restaurants.
Boekhoudt together with Jenny Boekhoudt, member of Marriott Surf Club, thanked them for choosing Aruba as their vacation destination and as their home away from home for so many years.q