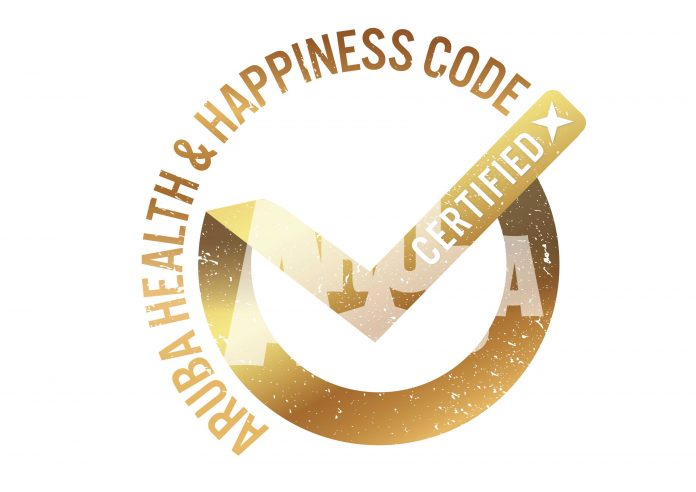 Back in May of 2020, the Aruba Tourism Authority (A.T.A) and the Department of Public Health announced the 'Aruba Health & Happiness Code', a stringent cleaning and hygiene certification program that is mandatory for all tourism related businesses across the country.
The 'Aruba Health & Happiness Code' certification provides assurance that each business has taken every measure to offer a safe environment for employees and guests. The certification seal of approval will be displayed prominently on all tourism related businesses, and the certified businesses will also be found on the Department of Public Health website.
Aruba's health and safety protocols will provide a seamlessly secure and clean experience for visitors at every touchpoint, upon arrival in Aruba. The Aruba Airport Authority has worked with the Department of Public Health and followed World Health Organization (WHO) guidelines to implement numerous measures such as screening, temperature checks, on-site medical professionals, social distance markers and additional shields and safeguards, mandatory PPE training for all staff, and more.
As visitors depart the airport, they will find the 'Aruba Health & Happiness Code' certification seal of approval on taxis/transport and on all businesses that fall into the sectors of accommodations, food and beverage, restaurants and bars, casinos, retail shops, and tour operators. The Aruba Hotel & Tourism Association has distributed their "Best Practices" guide to hotels which elevates the existing cleaning protocols to new norms for all areas including luggage handling, elevator safety, housekeeping guidelines, food & beverage service, casinos and more. Visitors can expect such measures as plexiglass barriers at desks, digital keys and contactless check-in, thorough disinfecting of all public spaces and rooms, and more. These protocols to safeguard visitors and locals also extend to national parks and tourism attractions. In order to receive visitors, all businesses must adhere to these protocols and receive on-site inspection and approval from the Department of Inspection and Hygiene to be awarded with the Aruba Health & Happiness Code gold certification seal.
In order to help participating companies to promote their businesses, the Aruba Tourism office are giving companies the opportunity to be added to their website www.aruba.com and be illustrated under the category 'Things to do" or 'Plan your visit'. This way the visitor can have easy and direct access to any service they are interested in.
For more information visit www.aruba.com.