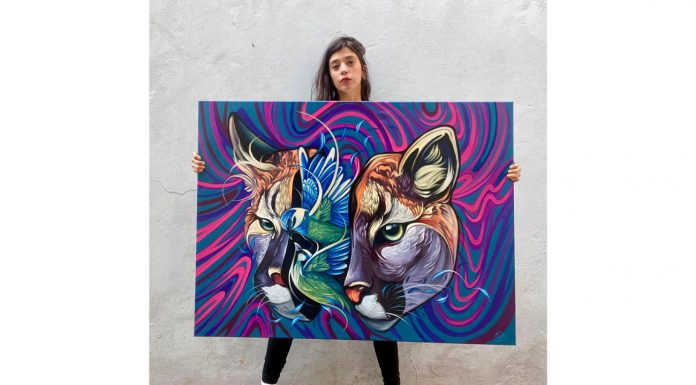 SANNICOLAS/ARTFAIR2022: The word is out, Aruba is becoming the Art Centrum to be in, where all renowned muralist wants to exhibit their art pieces.
Aruba gathered the finest muralists from most part of the world and made the streets of San Nicolas in a want to see and want to be in, urban revolving out door Gallery.
ArtisA, the holding of all that happens with the murals and Aruba Art Fair is evolving, thinking in global happenings such as extinction of the species
Our Artist for this week is Fio Silva from Argentina
Flamboyant and exquisite in her work.
The Buenos Aires-based artist focuses largely on movement, a thread that runs through both the vivid renderings of winged subjects as they appear to take flight or perch for just a moment.
When working in color, the artist starts with blues, yellows, and reds before expanding the palette based on the moods and to intensify clusters of oversized birds creating spectacular murals.
Fio, is looking at converting a strategically situated old building in something magnificent, illustrating one of the most endangered species on our Island.
Ducks are rarely found on the Island. And it should not be like that. So, she is creating a spectacular creation for your eyes only!
Art Fair 2022, November 4.5.6, 2022, will be an explosion of Arts where more than 150 local and international artists will expose their arts, and more than 15 International Artists will leave their artistic mark on Aruba's largest murals in the long NOT forgotten sunrise city San Nicolas, the Art Capital of the Caribbean, named by Forbes.
ArtisA in partnership with Aruba Tourism Authority Sui Generis invites you to follow us via www. Artfairaruba.com or visit us at ArtisA Gallery in San Nicolas.