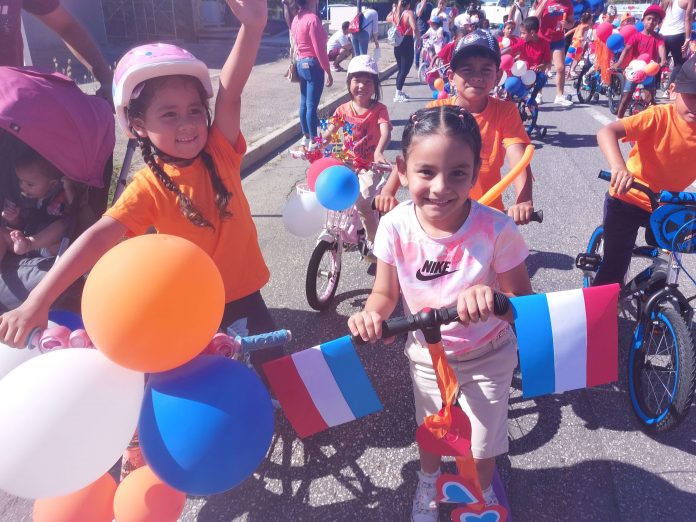 (Oranjestad)—On Wednesday Morning, the majority of schools across the island celebrate King's Day with different activities. Arco Iris Preschool was not left behind and they decided to celebrate the king's birthday with a bike parade for their students.
Arco Iris has been holding bike parades for many years now, but due to the corona virus pandemic in the last three years, their parade, as well as celebrations for King's Day in general, were all put on hold.
However, seeing as everything is going back to how it was before the pandemic, the preschool decided this year to hit the streets once again and celebrate with their traditional bike parades.
Students with their bikes or kick scooters—decorated with the colors of the royal family and the Netherlands—enjoyed their morning celebrations with color, ambience and happiness. Every class was assigned a different color that coincided with the colors of the Dutch flag (red, white, blue) and the Royal Family (orange).
More than 120 students hit the streets, with most of them on their bikes. Parents volunteering at the event were also present to watch their children and help the children keep safe on the roads of Aruba. Emergency services were also present, in case of any unfortunate incidents. The parade was guided by the police and roads were blocked off so that the children could enjoy their morning without the dangers of traffic.
The parade started at the preschool and made its way down De La Salle Street and went up Vondellaan in the Downtown area. From there, the parade continued past the National Library and finished back at the preschool.