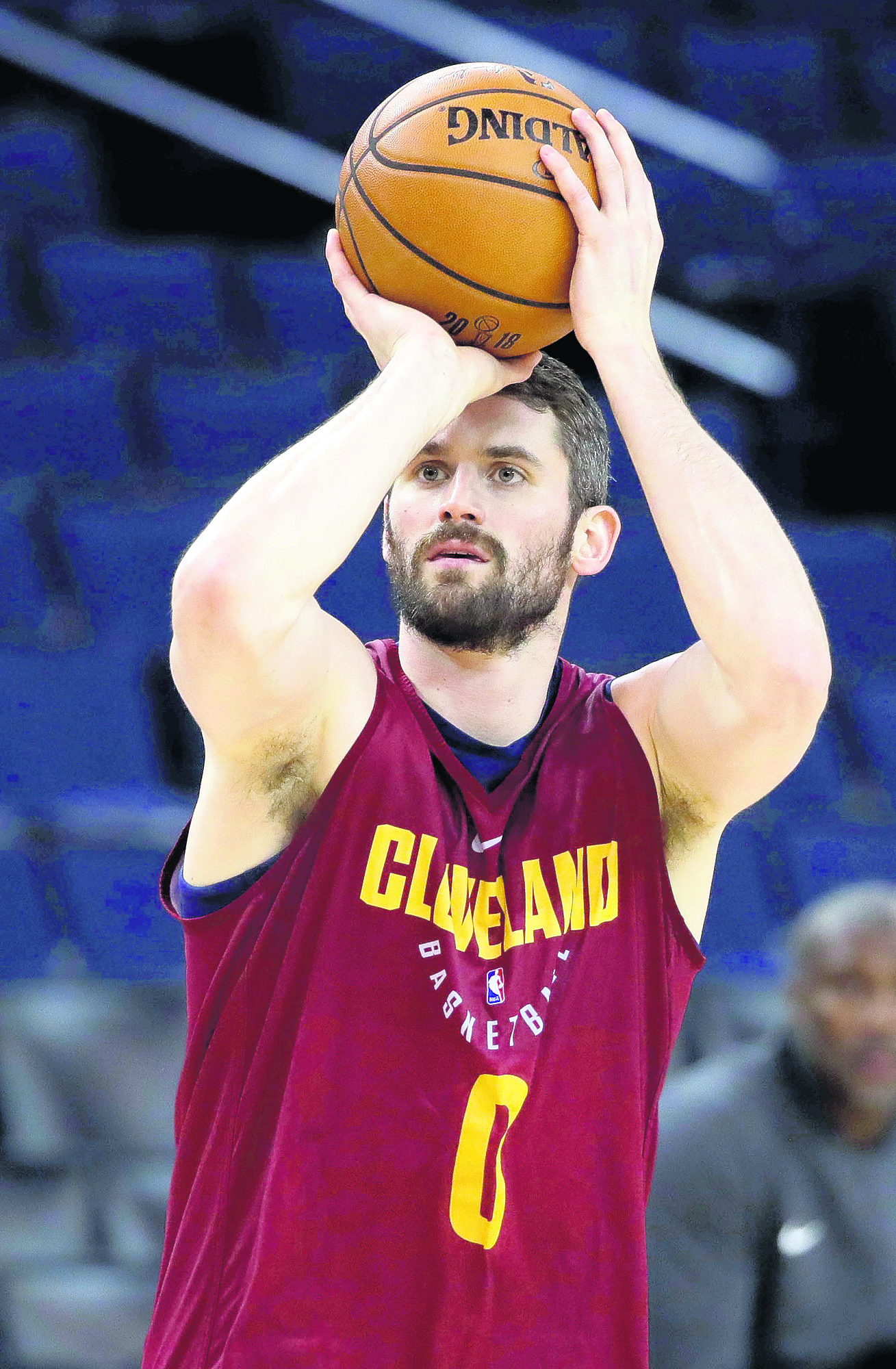 By JANIE McCAULEY
Associated Press

OAKLAND, Calif. (AP) — Golden State forward Andre Iguodala will miss Game 1 of the NBA Finals on Thursday night as he recovers from a bone bruise in his left knee that cost him the last four games of the Western Conference finals. Iguodala's absence is a huge blow to the Warriors' defense as it works to stop LeBron James and the Cleveland Cavaliers. Golden State coach Steve Kerr said several players will be called upon to handle the load that is James, making his eighth straight Finals appearance.

"He was MVP of the series in 2015, largely because he took that role on of guarding LeBron. But also because of what he did offensively," Kerr said. "He's doing a little bit better today. Some encouraging signs, but we have ruled him out for Game 1. We've got lots of guys who can take on that job. It's a group effort, anyway guarding LeBron. So, KD, Draymond (Green), Klay (Thompson), Shaun Livingston, they'll all see time on him." The Warriors said Iguodala, who was injured in Game 3 against the Rockets on May 20, was evaluated Tuesday and is making progress but still has the bruise and inflammation of the nerve surrounding his knee. Kerr has said Iguodala wouldn't play until he can run without pain.
He will be re-evaluated ahead of Sunday's Game 2. Iguodala said he doesn't have any doubts he will be able to return during the Finals. "Just trying to figure out how to move in general," Iguodala said. "But making some progress. Slower than we expected but if you're just being realistic it is what it is and it'll be the time, if not longer." Kevon Looney has been starting in Iguodala's place. Everybody on the Warriors realizes it will be a joint effort guarding James.
"What he brings to us on the defensive end will definitely be missed," Green said. "But it just means other guys have got to step up. Other guys have done that thus far. The task gets even harder but I know guys will and it will be a collective effort in hopes that we keep trekking along until he's ready to come back."
Forward Kevin Love's status for Cleveland remained unclear as he continues to go through the NBA's concussion protocol. Love was injured in Game 6 of the Eastern Conference finals against Boston that the Cavs pulled out in seven. He wasn't scheduled to attend media day Wednesday at Oracle Arena, where the Warriors host the series opener in the fourth straight Finals meeting between the rivals. "He's going to go do some things today and see how he feels," Cavs coach Tyronn Lue said. "But he is in the protocol still, so we'll see how he feels."
Both teams practiced Wednesday on Golden State's home floor, where the defending champions have won 17 of their last 18 postseason games.
James certainly understands what the Warriors are missing without Iguodala's presence and athleticism. "First of all he has very, very quick hands," James said. "That doesn't get talked about a lot, his ability to read and react to the ball either in flight or while you're dribbling or when you pick the ball up."