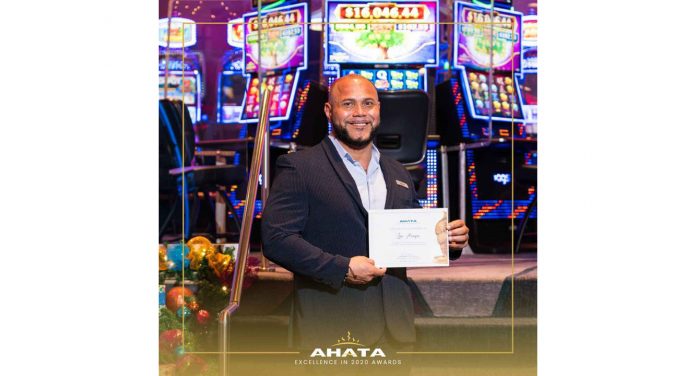 Each year, the Aruba Hotel & Tourism Association (AHATA) organizes the AHATA Excellence Awards with a dinner event to honor exceptional employees within the tourism industry. Due to the COVID-19 pandemic, the elaborate award evening could not take place this year.
However, during a year where the tourism industry was devastated and needs a renewed commitment from one and all to rebuild, it is even more important to recognize the individuals that contributed extraordinarily during a crisis.
Many dedicated employees of Aruba's tourism industry have continuously shown resilience, motivation, and productivity during the 2020 crisis and are contributing significantly to the recovery of Aruba's tourism and economy. Consequently, AHATA is determined to recognize the extraordinary efforts of employees in the sector that are at the front line of the tourism industry recovery efforts. AHATA has honored these exemplary employees in the sector with the "AHATA Excellence in 2020 Awards".
AHATA member companies had the opportunity to select one employee that stood out most during the crisis for their motivation, dedication, and productivity in the battle to overcome our economic crisis and lift the tourism industry back on its feet.
May we present to you the winners of "AHATA Excellence in 2020 Awards":
Aldrick Pontilius
Aldrick is Senior Bartender at Bucuti & Tara Beach Resort. During the lockdown, his agile mindset allowed him to quickly adapt to the new circumstances at work while keeping the team encouraged.
Luis Araque
Luis is Security Manager at Renaissance Aruba Resort & Casino. He has been a strong leader throughout the crisis, using creative ways to keep the team motivated.
Audey Bronstein
Audey is Director of Security Hyatt Regency Aruba Resort & Casino. He went above and beyond in leading his team and ensuring the entire hotel operation ran smoothly this difficult year.
Vashni Jeminah Wix-Chirino
Vashni is Sales Associate at ECO DMS Aruba & Curacao. During the uncertainty, she was a strong leader to her peers and also contributed to almost every project. Her creativity, pro-activeness, and motivation fairly earned her a valuable reward.
Haydy Obispo
Haydy is Director of Engineering at the The Ritz-Carlton, Aruba. She has been an exemplary role model and leader throughout the pandemic ensuring all protocols were in place.
Marie-Elise Tromp
Marie-Elise is Reservations Agent for both Blue Aruba and Azure Residences Aruba. She worked hard handling all the changes due to the crisis and maintained a kind and resilient attitude at all times.
Earlyson Hooi
Earlyson is a Driver & Tour Guide at El Tours Aruba. He has been incredibly helpful during the crisis and has kept his colleagues' morale high. He always goes the extra mile with a smile on his face!
Esmeralda Ophelia Schotman
Esmeralda is Cruise, Risk, and Quality Manager at Fofoti Tours & Transfers. She was the driving force that ensured staff received training and followed all COVID protocols. Her positive attitude and immense support throughout the pandemic earned her the AHATA Excellence in 2020 Awards.
Edy Paidin
Edy is a Mechanic & Road Service Technician at Hertz Aruba Car Rental. Edy almost singlehandedly gave support to the tourists that remained on the island after the crisis started.
Eriberto Holsman
Eriberto is a Technician at Professional Pest Control Aruba. Throughout the crisis, he presented suggestions. His strong work ethic and dedication to customer service makes him another deserving recipient of this award.
Shakell Bird
Shakell is Front Office Agent at Divi Phoenix Beach Resort. During the pandemic, she demonstrated her true leadership capabilities. She even put her own career advancement on hold to focus on handling the crisis this year.
William Bautista
William is Pool, Beach, & Garden Supervisor at Manchebo Beach Resort & Spa. He was one of the few who still came to work and focused on maintaining the property in optimal condition. He went the extra mile to make the resort a safe place for both guests and members.
Victor Francisco Macdonal Morla
Victor works in the Room Care/ Maintenance Department at Amsterdam Manor Beach Resort Aruba.
He reframed the crisis as an opportunity to learn and quickly adapted to the new circumstances at work. He also went above and beyond to support and motivate his team.
Bibiana Cano
Bibiana is Restaurant Supervisor at Po-Ké Ono. She was the executrix behind 'Po-Ke at Home'. Her drive and dedication to ensure each delivery was coordinated and delivered with the highest health and sanitation measures are one of the many reasons she received this year's Excellence in 2020 Award.
Jose Alcocer
Jose is Pool and Beach Attendant at Courtyard by Marriott Aruba Resort. He is known for being dependable, efficient, and always punctual. This year, he handled an overwhelming amount of work. Colleagues at Courtyard held a secret voting poll to select the next recipient for the AHATA Excellence in 2020 Awards, whereby he was the unanimous winner.
Ereline E. Presentacion
Ereline is Bus Driver/ Tour Guide at De Palm Tours. She did an outstanding job as "acting coordinator" during the crisis. Her love, patience, and tremendous support during the crisis are what earned her this year's Excellence in 2020 Award.
Adele John
Adele is F&B and Health Protocol Manager at Brickell Bay Beach Aruba. Throughout her 16 year career, she progressed and developed through self-education. Her steadfast dedication and tremendous support during the crisis are what earned her this year's Excellence in 2020 Award.
Ryan Bareño
Ryan is Director of Engineering at Marriott's Aruba Surf Club. He has been instrumental from the beginning of the crisis by spreading awareness and organizing role plays to fine-tune operations. He even fogs the associate entrance every day to keep everyone safe! His agility is what earned him this year's Excellence in 2020 Award.
Alexander de los Santos
Alexander is Marriott's Aruba Ocean Club- Engineer II. His can-do attitude motivated not only his department but the entire resort! He has been a key player during these difficult times with his uncommon willingness to go the extra mile. Without a doubt, he has rightfully earned this year's Excellence in 2020 Award.
Jenny Erazo
Jenny is the Director of Retail at Aruba Marriott Resort & Stellaris® Casino. Jenny was instrumental in implementation of COVID measures and clean standards. Her professionalism and inexhaustible devotedness are what earned her the Excellence in 2020 Award.
Sue Ann Lin
Sue Ann is the Director of Loss Prevention at Holiday Inn Resort Aruba-Beach Resort & Casino. She was a source of inspiration during the pandemic and has gone above and beyond to be available day and night by moving on property. Her selflessness, commitment, and above all, professionalism, are what earned her this year's Excellence in 2020 Award.
Veronica E. Castañeda Espinoza
Veronica is Housekeeping Assistant Supervisor at Boardwalk Hotel Aruba. She has been with the Boardwalk for an astounding 23 years! Veronica's amazingly positive attitude and her resilient character are what earned her this year's Excellence in 2020 Award.
Anoushka De Cuba
Anoushka is the Director of Human Resources at Eagle Aruba Resort & Casino. Her relentless dedication and attentiveness for her associates is what made her a source of inspiration to the Eagle team during the COVID-19 pandemic and earned her the Excellence in 2020 Award.
Amaris Werleman
Amaris is the Internal Auditor at La Cabana Beach Resort & Casino and also became the leader of the resort's Steering Committee. Amaris' unwavering leadership in establishing the new Hygiene and Cleanliness Protocol in a timely manner astonished her team and rightfully earned her this year's Excellence in 2020 Award.
CMB Caribbean Mercantile Bank N.V. provided a valuable gift to all the winners. AHATA would like to congratulate all the winners and thanks them for their efforts on the frontline of Aruba's tourism recovery.