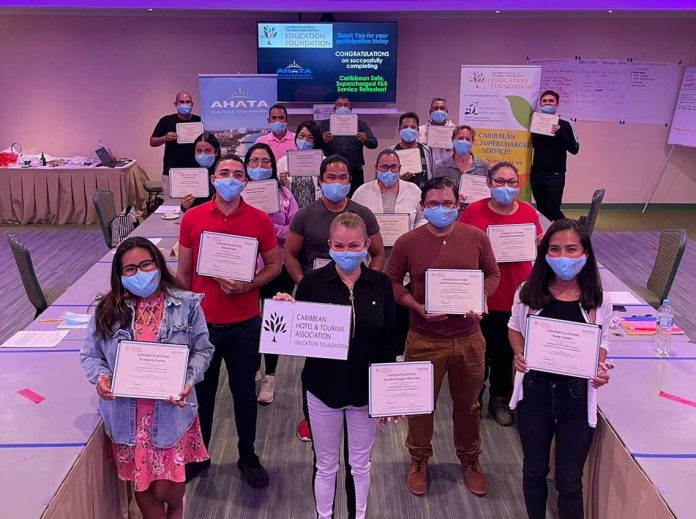 In a continued effort to support members in achieving sustainable success, the Aruba Hotel & Tourism Association has collaborated with the Caribbean Hotel & Tourism Association (CHTA) Education Foundation to offer training courses for management and staff in the Housekeeping Department and in the Food &Beverage Department. The courses were attended by over 90 participants from various hotels and restaurants.
The objective of the courses was to boost the morale of frontline hospitality personnel and motivate them to confidently deliver engaging and friendly guest interactions that increase customer satisfaction. Each participant was required to attend one full day of theoretical and practical learning. At the end of the day, each participant received a 'Caribbean Safe, Supercharged Service Refresher' Certificate from the CHTA Education Foundation.
The first course, Housekeeping Service Refresher Course, helped refresh participants on key areas such as:
Proper housekeeping procedures
Expanding the understanding of COVID-19 protocols
Effective techniques for guest communications.
The second course, Food & Beverage Service Refresher Course, elaborated on the fundamentals such as:
Food Knowledge & Preparation
Beverage and Wine Basics
Basics of upselling
Communication for authentic guest engagement
The workshop covered verbal and nonverbal communication skills, COVID-19 safe service procedures, how to be more attentive, and other service aspects. Suzanne Shillingford-Brooks and Louise John from the CHTA Education Foundation served as facilitators, and both have extensive operational knowledge and experience. Despite the challenges posed by the pandemic, AHATA remains committed to providing members support and help them improve our tourism product.