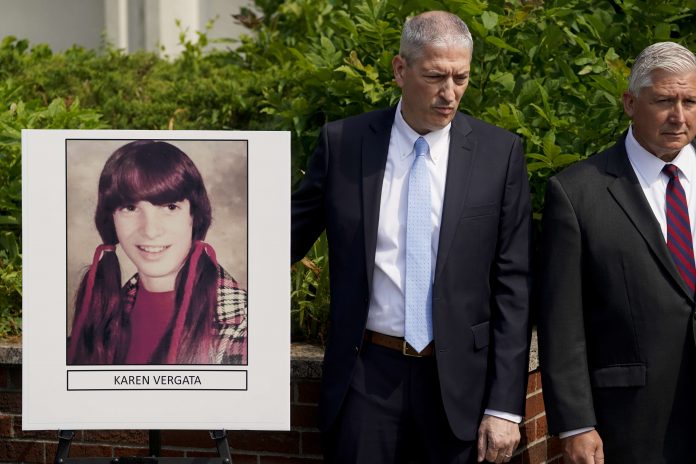 By Jake Offenhartz, Jennifer Peltz and Bobby Caina Calvan
Associated Press
HAUPPAUGE, N.Y. (AP) — A woman whose remains were among discoveries that became known as the Gilgo Beach killings has been identified after 27 years, authorities said Friday, disclosing the latest in a series of recent revelations about the long-cold case.
Known until now to the public only as "Jane Doe No. 7," she was Karen Vergata, 34, Suffolk County District Attorney Ray Tierney told a news conference.
Her family last heard from her on Valentine's Day in 1996, when she called her father on his birthday, according to court papers he filed in 2015 seeking to have her declared presumptively dead.
The filing lays out years of relatives' and attorneys' efforts to find her and says Suffolk County police contacted the family as far back as 1997 about an unidentified woman's death. It was not immediately clear whether that woman was indeed Vergata, whose then-unidentified remains had been found the prior year.
Tierney credited a recent reinvestigation and new DNA sampling with finally establishing who she was. Yet much remains unclear about the investigative turns of a case that bedeviled detectives for over a decade and was beset by clashes among law enforcement agencies and changes in their leadership.
Friday's development was part of a reinvestigation that, last month, spurred the first arrest in connection with the long-unsolved string of killings of 10 people whose remains were found over a decade ago along a coastal parkway in Gilgo Beach on New York's Long Island.
But it is unclear whether Vergata's death might ever be tied to the ongoing case against Rex Heuermann, an architect who has been charged with three of the killings and named the prime suspect in a fourth. Tierney declined to comment on "what, if any, suspects" were developed in Vergata's death.
Some of Vergata's remains were discovered in 1996 on Fire Island. More of her bones were found in 2011 near Gilgo Beach, more than 20 miles (32 kilometers) west of the original location.
A woman with a "troubled lifestyle," in the words of father Dominic Vergata, she was living in a rented room in Manhattan's then-gritty Hell's Kitchen neighborhood.
Child-welfare officials had taken her two sons from her, and they had been adopted by a foster mother. She had not seen the young boys since 1992, but she visited her father and brother frequently, her father said in sworn statements in the court proceeding that sought to have her declared legally dead.
Karen Vergata had been arrested numerous times, according to documents in the court papers, which don't specify the charges or outcomes. Tierney said investigators believe she was working as an escort. Most of the other victims in the Gilgo Beach killings also were sex workers.
Vergata was behind bars again when she called her father for what would be the last time on Feb. 14, 1996, seeming "very troubled," he said.
The family learned she had never tried to reclaim bail money she had posted for a friend before February 1996, a police officer who frequently saw her around her neighborhood had not caught sight of her since then, and she'd missed a March 1996 court date, the father's court filing said.
Tierney said Friday that no missing persons report was filed when Vergata disappeared. But her father had said he tried to file a missing persons report with the New York Police Department in 1996 but was told he could not. A message seeking comment was left with the NYPD.
The family heard the next year, from a Suffolk County detective, that an unidentified woman's body had been found, the father said. He said relatives gave DNA samples but were told they did not match.
Over the ensuing years, the family and attorneys canvassed law enforcement and social services agencies in the New York metropolitan area and hired a private investigator, according to the court filing. Yet they turned up no sign of her.