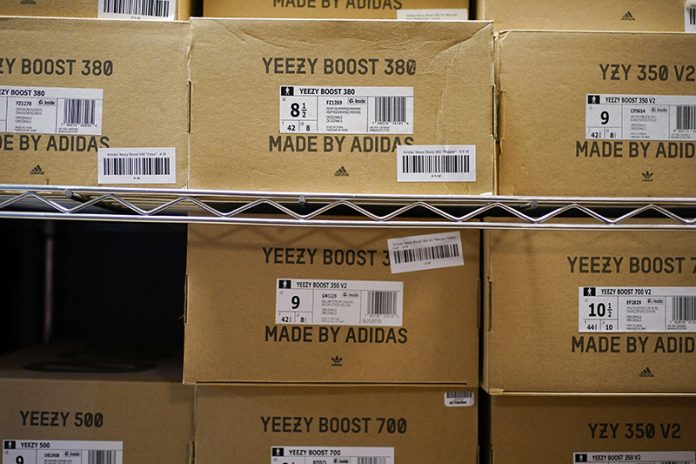 By DAVID McHUGH
AP Business Writer
FRANKFURT, Germany (AP) — Adidas is still wrestling with how to dispose of 1.2 billion euros ($1.3 billion) worth of Yeezy shoes after its breakup with the rapper formerly known as Kanye West, forcing the German sportswear maker into a big loss at the end of last year and expectations of more pain ahead.
CEO Bjorn Gulden said selling the popular line of shoes would mean paying royalties to Ye, who was dropped by Adidas five months ago after making antisemitic remarks on social media and in interviews. During an earnings call Wednesday, he pointed to "many variables" about what to do with the shoes now stacked in warehouses.
Destroying them could "raise sustainability issues," though some companies have offered recycling solutions, said Gulden, who was named CEO after the blowup over Ye's remarks. Restitching them to hide the Yeezy brand so they could be sold "is not very honest, so it's not an option," he added.
Suggestions to give them away to those in need in places like earthquake-hit Syria or Turkey would mean the product would "come back again very quickly" due to its high market value, "so that's not really an option," Gulden said.
If Adidas does decide to sell the shoes, "I can promise you that the people that have been hurt by this will also get something good out of it and get donations and proceeds in different ways, shapes or forms," the CEO said.
Adidas split with Ye in October, following other brands that were facing pressure to end ties with the rapper over his antisemitic and other offensive remarks. The company is now struggling to find ways to become profitable again and replace its banner Yeezy line, which analysts have said amounted to as much as 15% of its net income.
The Ye breakup cost 600 million euros in lost sales in the last three months of 2022, helping drive the company to a net loss of 513 million euros. The decline, also attributed to higher supply costs and slumping revenue in China, contrasts with profit of 213 million euros in the fourth quarter of 2021.
More losses could be ahead, with the company forecasting a 500 million-euro hit to profit earnings this year if it decides not to repurpose the remaining Yeezy products in stock. The company is predicting a 2023 operating loss of 700 million euros.
Gulden said "so many companies" were willing to buy the popular shoes but that would mean paying royalties to Ye. Rumors that the company was in talks to sell them, however, "are not true."
He had heard from "gazillions of people that have opinions about this, and of course when you're sitting on the inside, it looks a little bit different than it looks on the outside."
Gulden also said Adidas is still investigating former employees' allegations that Ye created a toxic work environment and that the sportswear company knew about his problematic behavior and failed to protect workers.
The CEO called 2023 "a transition year," saying "we can then start to build a profitable business again in 2024."
Last year, fourth-quarter net sales were up a bare 1.3% at 5.21 billion euros from the same quarter a year ago. The company pointed to revenue dropping 50% in China and higher costs for supplies and shipping, which could not be offset by price hikes.
For the full year, the Herzogenaurach, Germany-based company said it made a net profit of 638 million euros on sales that rose 6%, to 22.5 billion euros.
Adidas also further shook up its leadership by replacing its top sales and marketing executives. Global sales head Roland Auschel will leave the company after 33 years and be succeeded by Arthur Hoeld, now head of the Europe, Middle East and Africa region.
Brian Grevy, head of global brands, will step down March 31. CEO Gulden will take on his product and marketing responsibilities.