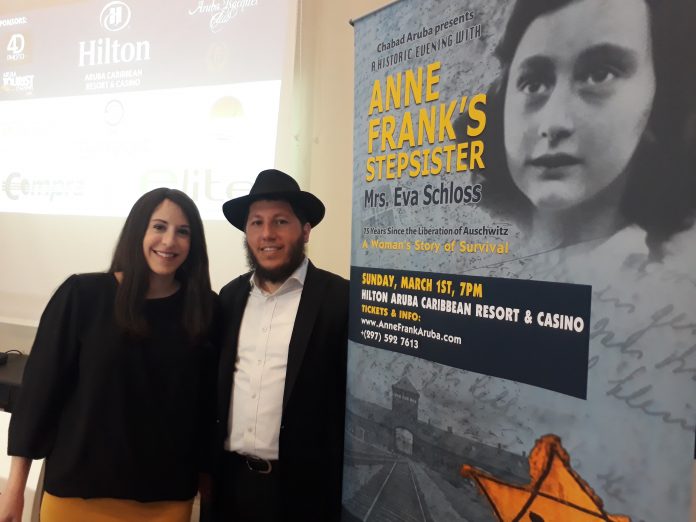 The stepsister of one of the most discussed Jewish victims of the Holocaust, Anne Frank, will be in Aruba on a special invitation by the Chabad Synagogue of Aruba. Enter the world of Anne Frank as told by her stepsister and childhood friend.
Eva Schloss, born on May 11, 1929, is an Austrian-English holocaust survivor memoirist and stepdaughter of Otto Frank, the father of Margot and diarist Anne Frank. Schloss will be travelling fom London to share her story of truimph and survival, tolerance and global peace with the Arubian community. Schloss is a trustee of the Anne Frank Educational Trust, an author of three books and the subject of James Still's play, "And then they came for me." Like her stepsister Schloss went into hiding in holland until she, along with her family, were betrayed, captured and sent to the Auschwitz-Birkenau death camp. Her father and brother did not survive the ordeal, but she and her mother were barely alive when they were freed in 1945 by Soviet troops. They returned to Amsterdam, and during this time, Schloss and her mother renewed their friendship with Otto Frank, who was at that time contending with the loss of his wife and children, and the discovery of his daughter Anne's diary. Schloss did not talk about her experiences in the concentration camp until after Otto's death in 1980. Having experienced her stepfather's emotional involvement with Anne and the preservation of her memory, she felt compelled to take on the responsibility of keeping Anne Frank's name alive.
Since 1985, Schloss has devoted herself to Holocaust education and global peace. She has encountered her wartime experiences in more than one thousand speaking engagements. Due to her age she is not able to travel much, but she is making an exception and what motivated her to visit Aruba is when she heard that we have a bust of Anne Frank at the Whilhelmina Park in Oranjestad.
The educational speech will be held on March 1st, 2020 at the Hilton Aruba Caribbean Resort and Casino, Grand Morris Lapidus Ballsroom, starting at 7pm.
For more information and tickets call (+297) 592-7613 or visit www.annefrankaruba.com.