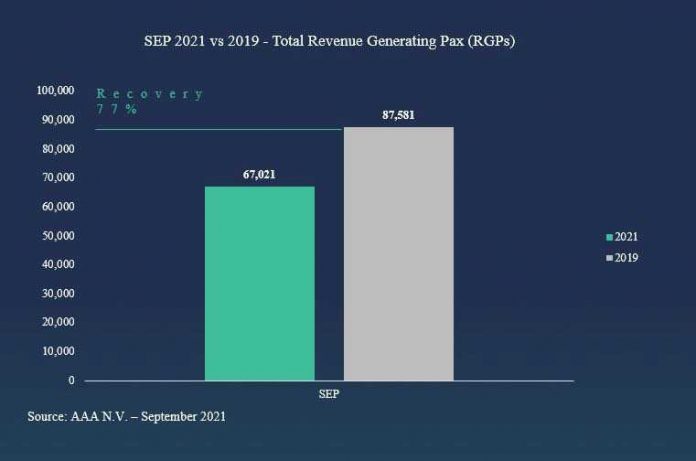 Aruba Airport Authority N.V. (AAA) can report as follows on AUA Airport's performance for September 2021; a known shoulder month for the airport with a satisfying recovery rate versus the same period in 2019.
In September 2021, AUA Airport handled 67,021 departing passengers. This was 32% less than the month before. During the past month AUA Airport recovered 77% of the amount of departing passenger that were handled in 2019 during that same month. In September 2021 50,889 passengers (pax) travelled to the US, 6,466 pax to Europe, 2,663 pax to the Netherlands Antilles, and 6,574 pax to Latin America.
An average outbound passenger load factor (PLF) (number of seats of the total seats on board an aircraft that are occupied when departing from AUA Airport) for the US Market of 70% was reported during the month of September 2021, while the average PLF for all markets was at 71% during that same period (in comparison to 2019 where the PLF for all markets of 85% was reached).
During the past month, AUA Airport averaged 26 flights per day, down from 32 daily flights during the same period in 2019. In that same period in 2020 we only handled a total amount of 218 flights whilst our national border re-opened in July of 2020 for all commercial operations.