ORANJESTAD — The countdown just began for the annual event of Cadushi Festival which this year marks its 9th edition and the 5th with the Christmas sphere. They are ready to show you a unique side of Aruba.
The idea for this festival was born out of a perceived necessity for a different kind of activity on the island, an inspiring alternative gathering place for curious souls which could simultaneously serve as a showcase for local artists, small business, brave hearts and creative, out-of-the-box entrepreneurs.
Having lived in the Netherlands for many years, the founding members Carina and Julienne had been missing the festival ambiance ever since returning back home and decided to recreate this through the activity which is now known as the Cadushi Festival. The very first Cadushi festival took place back in 2014 in the garden behind a friend's yoga studio on a low-budget and was completely independent. The first Cadushi Festival had an amazing response and it set the tone for the festivals to follow.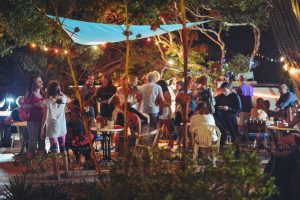 The Cadushi Festival aims to inspire and connect people of all walks of life, both adults and kids, who seek enrichment of their lives on a physical, mental and spiritual level. The festival promotes a more conscious lifestyle and highlighs the importance of supporting local artists, artisans, small business owners and creatives in general. Awareness promoting activities such as meditation, yoga, handmade, recycled, reusable products and health conscious products can also be found at the Cadushi Festival. You will furthermore find a variety of unique food and beverage stands and activities such as sound healing, tarot, creative workshops and live performances. The Cadushi Festival is not only aimed at the locals but also at the tourists showing them a different and unique side of Aruba, encouraging them to live mindfully as well as to support Aruba's local artists and entrepreneurs while enjoying their stay in Aruba.
Slow down, buy local, is the Cadushi Festival's slogan. Slow down, in order to return to our natural ways, live more consciously and mindfully as a way to balance out the tendency to make everything faster (fast food, fast living etc). And lastly, buy local, which focuses on supporting local artists, the creative and the entrepreneurial community while encouraging new and unique initiatives.
Upcoming Saturday December 22nd the Cadushi Festival awaits you at the Nikki Habibe square in the heart of Oranjestad from 5 PM to 11 PM. Come gather and connect with other like-minded individuals in a positive and nourishing setting where you will be sure to leave feeling inspired, energized and empowered.
For more information visit their facebook page Cadushi Festival.