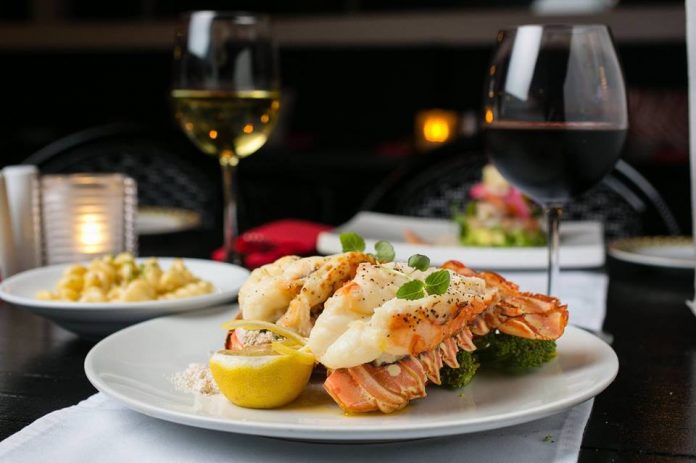 Restaurant Chicken & Lobster is celebrating three years of existence and they want to share the joy with you! Tonight, receive 30 % off your entire check! We guarantee that you will enjoy the house specialties, a delicious free-range Rotisserie Chicken and/or a juicy fresh Lobster Tail. The friendly Chicken & Lobster staff is happy to welcome you to the outdoor terrace in the midst of the beautiful Palm Beach Strip. Come over and join the party!
You might be thinking: What a peculiar name for a restaurant? Why combine chicken and lobster into one name? Simple! Chicken & Lobster prides itself on being able to offer quality food that fits every budget, big or small. "You can have a delicious free-range Half Chicken with a side and drink for about $ 20 or you can go all out with a luxurious fresh Lobster Tail. Both include top service, the best quality, and the freshest ingredients", says the manager.
For breakfast, lunch or dinner, Chicken & Lobster is ready for you. From 7.30 AM to 10 PM dishes made with the freshest ingredients on the island are served to you with a smile. For three years already the dedicated crew has been offering delicious breakfast dishes such as New York Poached Eggs and Dutch Pancakes. The restaurant is famous for the Breakfast of Champions, often praised to be the best breakfast on the island. Additionally, the Chicken & Belgian Waffles lunch is not to be missed. There is also an Early Bird Special, presenting a three-course menu with free wine or Balashi beer. Live music can be enjoyed on Tuesdays, Thursdays, and Saturdays while you are being pampered by the friendly staff.
Tonight you can have your pick from the amazing menu and pay only 70 % of your check. Please note this cannot be combined with other specials. For more information you can contact:
Chicken & Lobster
J.E. Irausquin Boulevard 87
Highrise Palm Beach (in front of Playa Linda Beach resort)
https://www.chickenandlobsteraruba.com/
Facebook Chicken & lobster