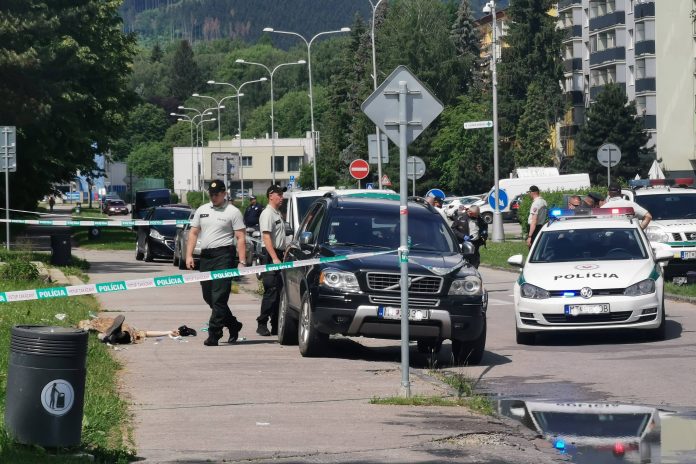 A man with a knife attacked a school in Slovakia on Thursday, killing one person and wounding at least five before he was killed by police, authorities said.
The attack took place at the United School in the town of Vrutky in northwestern Slovakia on Thursday morning. The establishment operates for children from elementary age up to high school. The dead victim was the deputy director of the high school, authorities said.
The attacker was identified as a 22-year-old man from the nearby town of Martin, a former student at the school, police said.
The Slovak rescue service said three adults and two students were treated in a hospital in Martin but didn't immediately reveal more details.
Slovak President Zuzana Caputova said she felt great sorrow and offered her condolences to the relatives of the victims and support for those who were wounded, teachers and police.
"Unfortunately, there are crazy people living among us and we're not able to prevent such a situation," Prime Minister Igor Matovic said.q
India seizes $180M in
jewels from fugitive
diamond merchants
NEW DELHI (AP) — Indian authorities have seized diamonds, pearls and silver jewelry worth millions of dollars as part of an investigation of a fugitive diamond merchant who is being held in London while fighting his extradition.
The seized valuables worth 13.5 billion rupees ($180 million) had been kept in a logistics company's warehouse in Hong Kong after being taken there from Dubai in 2018, India's Enforcement Directorate, which investigates financial crimes, said in a statement late Wednesday.
The jewels and gems belonged to Nirav Modi, whose jewels once adorned stars from Bollywood to Hollywood, and his uncle Mehul Choksi, who also fled India and is living in Antigua.
Modi is being held without bail. He was arrested by British authorities last year, more than a year after Indian authorities alleged he was involved in a $1.8 billion bank fraud. He left the country in early 2018 and started living in London.
Indian authorities have sought his extradition to face prosecution, claiming that the companies Nirav Modi controlled defrauded the state-owned Punjab National Bank by using fake financial documents to get loans to buy and import jewels.q
News agency: Iranian
police confiscate 2
tons of morphine
TEHRAN, Iran (AP) — Iranian police in a single raid confiscated two tons of morphine from drug smugglers in a suburb of the capital Tehran, the semiofficial ISNA news agency reported Thursday.
Tehran province police chief Gen. Mohsen Khancherli, said two smugglers, including the ringleader of the smuggling gang, were arrested. He said one of the detainees was transferring the drugs to Tehran from the southwestern part of the country by truck.
The second detainee, the alleged ringleader, was coordinating the operation from another province, remotely, Khancherli said.
Iranian authorities often confiscate large quantities of narcotics, but the seizure is the biggest morphine bust in months.
Iran is the main route by which drug smugglers ship narcotics from the poppy fields of Afghanistan to Europe. Authorities confiscate hundreds of tons of narcotics — mostly opium — every year.