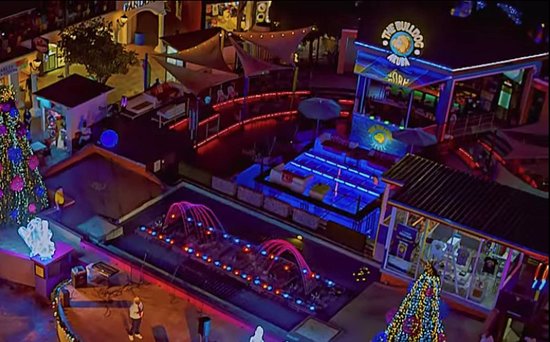 Nothing livens up your party like a fully stocked bar manned by skilled and knowledgeable bartenders with a keen eye towards the latest cocktail trends and an emphasis on fresh seasonal ingredients. We can mix up anything from old classics to wild new creations that will keep your guests chatting, dancing, and coming back for more. Whether you're adding a cocktail hour to your event or just looking for an open Spirits and Liquor bar. We'll gladly accommodate with a drink service tailored to your specific needs.
Our Exclusive Venue
Our venue can be adjusted to any desired atmosphere, has a big bar, kitchen and a centralized DJ- and Karaoke Booth. The Pool can either be used as a unique above-the-water dancefloor, which connects the left- and right wing of our venue at the same time, or as a swimming/party pool by removing the Pool-Deck. Last but not least, there's a huge stage at hand right in front of our venue!
Everything to realize your wishes.
General Information
Capacity: 375
Party Capacity: 300
Sit Down Capacity: 125
Location: The Bulldog Aruba is situated in the center of Paseo Herencia Mall, Palm Beach.
Interior: Scenic, Caribbean Style, Amsterdam Elements.
Wifi: Wifi Present
Catering: In-House Catering
Highlights
Indoor (Cocktail-)Bar
Outdoor Lounge
Spacious Outdoor Terrace
Pool(-Deck) Area
Kitchen
TV Screens
Big Screen + Projector
Entertainment Stage Available (Ca. 30 x 15 ft.)
Optional VIP-Area
Optional (Party-)Bus Transfer
2 Hours Free Parking in the Mall
Bar Service
The Bulldog Aruba delivers unique bar service customized for all event types. Contact our Event Manager to determine which (Food- and) Beverage package best suits your upcoming event.
In-House Event Design & Planning
Our team is ready to help create and deliver your vision at our unique venue in Aruba. Whether you are planning a small private event or an outstanding wedding-party for 300, we are ready to dazzle you and your guests. As one if the top event spaces in Palm Beach, our team is fueled by creativity, passion, professionalism and experience. We can manage all aspects of the event to save you time, money, and energy. We can also work along side your team or planner to make your vision come to life.
LET'S GET THE PARTY STARTED
To find out how The Bulldog Aruba can enhance you event,
please contact us.
Hotel Partners
The Bulldog Aruba also works closely with some of the leading hotels in Aruba and can help you coordinate room blocks.
Partners and Planners
If you are a planner or agency, we can connect with you to help make your event come to life.
Info:
E-mail: Vitchel.Venrooy@TheBulldog.com
WhatsApp: (+297) 561 4770
Phone Call: (+297) 561 4770
Office Number: (+297) 582 1332
Instagram: @TheBulldogAruba
Facebook: The Bulldog Aruba
LIVE MUSIC EVERY MONDAY AND FRIDAY!
FROM 8PM TILL 10PM
5-7pm: 20% OFF Premium Drinks & Shots
7-9pm: $8 Happy Hour Cocktails, $3 Shots
9-10pm: 2 for 1 Premium Drinks & Shots